Victor Hammer Louisville Seal
The City of Louisville commissioned legendary Austrian typographer Victor Hammer to design an official seal for the city in 1949.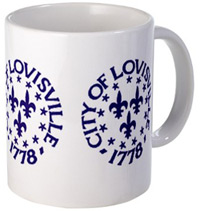 Hammer was the designer of the popular typeface American Uncial, a font very similar to both the letterpress face used in the Louisville seal and his earlier typestyle Hammer Uncial. Many of his typefaces remain in widespread use today, more than forty years after his passing.
Although the city replaced his revered seal on the occasion of the city-county merger in 2003, Louisville.cc is pleased to offer the classic Victor Hammer City of Louisville insignia on a number of great items.
Choose from a coffee mug, blank journal, ceramic tile coaster, lapel-pin button, mouse pad, ceramic ornament and even a wall clock!

Did you know?
The National Spelling Bee originated in Louisville.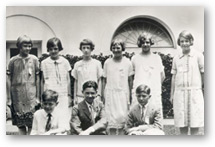 The Courier-Journal started the contest in 1925 with just nine contestants.
This vintage photo shows the very first group of finalists posing at the White House in 1925.
The publishing house Scripps took it over in 1941 and they still run the annual spelling competition today.
Did you know?
Disruptive car stereos, exhaust systems, and car alarms are against the law in Louisville.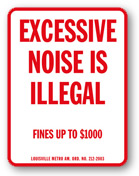 99.02 UNLAWFUL CONDUCT.
(A) It shall be unlawful for any person within Louisville Metro to make, continue, or cause to be made or continued, any unreasonably loud, harsh or excessive noise which either annoys, disturbs, injures, or endangers the comfort, repose, health, peace, or safety of others...
(B) The following acts are hereby declared to be unreasonably loud, harsh or excessive noises in violation of this ordinance, but the enumeration shall not be deemed to be exclusive:
(1) The sounding of any horn or other such audible signaling device on any automobile, motorcycle or other vehicle on any right-of-way, parking lot or other public place...
(2) The use or operation of any radio, stereo, or other machine or device for the producing, reproducing or amplification of sound in any vehicle in such a manner as to create an unreasonably loud, harsh, or excessive noise, that disturbs the peace, quiet or comfort of others;
- Excerpt from Lou. Metro Am. Ord. No. 212-2003